BORN IN the old Carmel hospital on Highway 1 and educated at Monterey Peninsula College, Carmel Valley building designer Marj Ingram Viales professes a special connection with the Central Coast and strives to create homes and workplaces that respect their surroundings.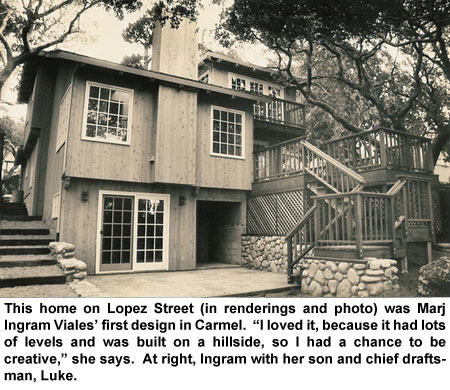 Recently celebrating 20 years of self-employment, Viales renamed her business Carmel Valley Design and employs four people, including her son and chief draftsman, Luke Ingram.
A lifelong admirer and practitioner of the arts, Viales was the oldest of nine children growing up among a family of craftsmen in their home on Meadows Road just a few miles from her present office in Carmel Valley Village.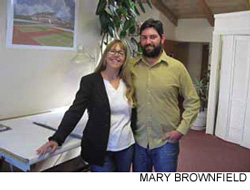 "My dad was a plastering contractor, as was his dad. My dad helped with the restoration of the Mission, and my granddad worked on the Golden State Theatre — the neat stuff on the inside," she said. "When I was young and a single mom with three kids, my dad encouraged me to start studying drafting because of my artistic background."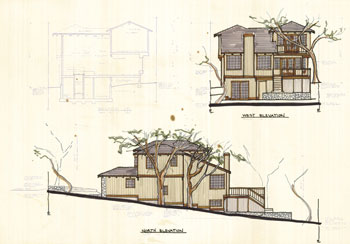 As a tradesman, her father recognized the need for more people who could draw building plans, and she took his advice.
"Most of my schooling was through MPC, but also the school of hard knocks," she said. "I also worked for a great teacher, Alan Williams of Carmel Design."
Williams now runs Carmel Development Company and is perhaps best known for his work on high-profile projects with former Carmel Mayor Clint Eastwood, including Tehama in the hills above Carmel Valley.
Three decades ago, he and his design-build company provided the ideal start for Viales.
"I got to see the things I drew being built — that was very educational," she said. "Alan was a great mentor, a great builder, a great designer."
He also allowed her to shepherd project permits through the planning process, a complex set of tasks with which she is now well familiar.
"I worked for him for 10 years [1977-1987] and then started my own company," Viales said. She ran her solo venture from her home, designing by hand.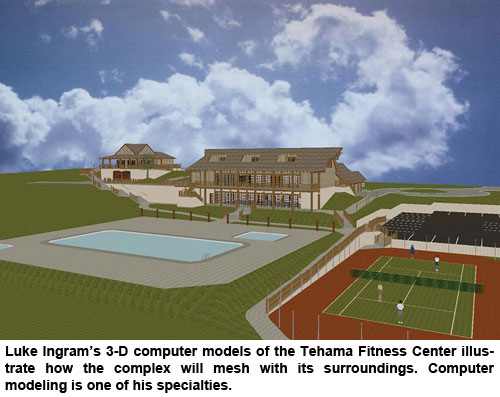 The emergence of computers as tools for drawing and drafting freed her to be more creative, and her business grew. She began hiring others to work with her and named her firm Marj Ingram & Associates.
"We've had all kinds of jobs, from little fencing jobs, to doing the drafting on the Tehama Fitness Center,"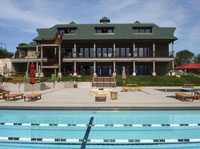 she said. Her company, now located in an airy Carmel Valley Village office with high ceilings, warm wood and stunning artwork by office neighbor Melissa Lofton, handles commercial and residential projects.

In many ways, remodels are more challenging than designing from the ground up, according to Viales, because the new has to mesh well with what already exists.

"What I liked about this one," she said, paging through a bound book depicting some of her favorite projects, "was that it was a challenge to put a second story addition on it and make it look like it was always there." The home at 12th and Casanova in Carmel-by-the- Sea "is one of the most challenging second story additions I've ever done, because I wanted to keep the Carmel character. I was so happy with it."
She paused at an early color rendering paired with photos, some black and white.
"This was my first home in Carmel," she said of the house at the end of Lopez Street. "I loved it, because it had lots of levels and was built on a hillside, so I had a chance to be creative, too."
The house features a bridge across the entry and open, beamed ceilings.
Some clients ask for little — an interior remodel or a small addition — but many seek out Carmel Valley Design for new creations.
"There are quite a few homes that are all my design, which is the really fun part," she said. "I've been lucky and gotten to design quite a few homes in the valley and Carmel, and in different areas of the Peninsula."
Wish lists
Building houses in Carmel can be particularly painstaking, considering the extensive restrictions on design elements, size, height and other elements.
"It can be a challenge to not make them all look alike because of the severe restrictions and small lots," she said.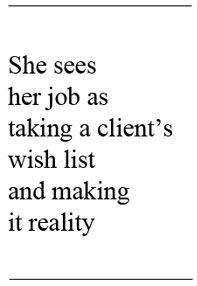 With so much experience in the permit approval process, Viales advises clients to avoid seeking variances — such as those required for building on slopes steeper than 30 percent — and tries to help them figure out how to best use their properties. And sometimes, she admitted, the best option involves asking planners for special permits.
"They give me their wish list, and I make that work. View is a big thing — whether they like to be awakened by the sun or sleep in late," she said. "We start with sketches."
She lays grid paper over topographic maps to show how a house might capitalize on various aspects of the property. "It comes together, like a good recipe."
Designing a winery and home in Cachagua, she employed "passive solar," situating windows and eaves so they allow maximum sunshine when the days are shorter and less when they are longer, and installing floors that store heat from the sun's rays.
For the Dormody family in Carmel Valley, Viales has designed many of the cabins in the remote San Clemente Rancho, including Mike and Donna Dormody's house on a ledge over a sometimes-rushing creek.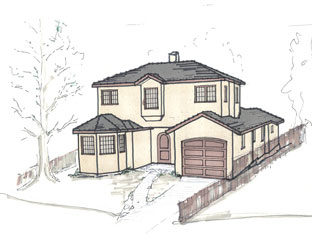 "The challenge of building over that site was incredible," she said, but employing unconventional angles while incorporating the Dormodys' desire for large log construction and steeply pitched roofs yielded one of her favorite designs.
Viales also professed personal connections with many of her commercial projects. She designed the e q u e s t r i a n center at H o l m a n Ranch and was working with its then-owner, Dorothy McEwen, on a winery for the picturesque property east of Carmel Valley Village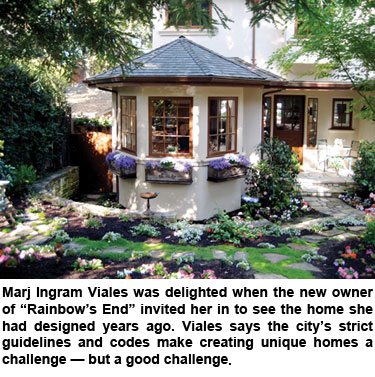 when McEwen died a few years ago.
"I loved doing that one, because I used to ride at Holman Ranch when I was a girl," she said. "It was wonderful to come back as an adult, meet Dorothy and design this equestrian center."
Another Village institution she frequented in her youth and helped revamp as an adult is the Carmel Valley community center and pool on Ford Road.
"The community has worked very hard to make that community center what it is today," she said. "I was really happy to be a part of that. My kids and grandkids have all used that pool."
Her firm also donated time and effort toward the design of a history museum for the Village. So far, only the restrooms have been built, but Viales hopes construction will begin on the C.V. Historical Society's main building next year.
Touch on Tehama
Though she's been on her own for decades, now, Viales has remained in touch with Williams, and he hired her to do the drafting for Tehama, including the fitness center and the home he plans to build there.
"We did complete working drawings for the whole property," she said. "That was the biggest job we've ever done and was really interesting because there were lots of unique construction methods," including the use of innovative energy-saving materials.
Williams' home, situated among the trees, will incorporate wood and a lot of glass, with separate parts connected by glassed-in hallways.
"He's trying to bring the pine trees in, with the wood columns and the glassed-in areas, so you feel like you're in the pine forest," she said. "That's the kind of stuff he taught me — just opening your eyes to the nature around you."
Williams is the only person for whom Viales' firm will do drafting work on designs not created there.
"Alan taught me so much when I was young that I really wanted to help him with his project," she said. "And it was great experience for my guys."
Viales employs two drafters, one permit processor and one bookkeeper.
Among them is her son, Luke Ingram, who recently married a Chilean woman who came to work for the firm a few years ago. A trained architect, Elvira Coo is now serving a two-year internship in Williams' office with architect Michael Waxer so she can obtain her license to practice architecture in California. Ingram and Coo married Sept. 29 and will visit Santiago for a ceremonythere in June.
"I'm not surprised that they fell in love, and we've all been drawn together because of this work," Viales said. "We enjoy working together and have made it a family company."
After her internship, Ingram's bride will likely return to Carmel Valley Design.
As head drafter, Ingram specializes in 3-D computer modeling to better illustrate how a building will appear on a site.
"He's got the most technical mind I've ever come across," Viales said. "He doesn't get to do much of it, because it's time-consuming and most projects don't need it, but it gives you a real idea of what a house is going to look like."
Ingram prepared such images for Tehama and the Carmel Valley museum.
Before becoming Viales' head draftsman, Ingram learned valuable job skills working for his grandfather in construction and interacting with engineers on numerous projects.
"He understands all the complicated technical codes," she said.
Love of the valley
Two decades after starting her own firm, Viales said she is thrilled to be contributing to the place she has always called home.
"I was 3 years old when Dad started driving us out here [to the Village]. I remember the wide open spaces where Carmel Valley Ranch is, and people who lived in the Village really lived in the sticks," she said. "And no one had even heard of Cachagua. We lived in the country. I still feel like I live in the country, and in my designs, I'm still thinking about that — the ruralness of Carmel Valley — and want to keep that alive."